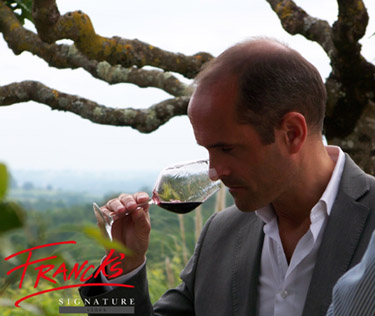 Franck's Signature Wines is a national importer, first established
in Bordeaux in 1992 by Franck Agostini. We focus solely on French wines and offer a full range of estate-bottled wines from the finest French vineyards. We offer a wide selection of wines for all price points but are repeatedly acclaimed for our truly amazing quality/price ratios.
♦ ♦ ♦
Franck's Signature Wines sources wines
from dozens of producers and offers
a fabulous diversity of exclusive "handcrafted wines." From well-
known appellations, to very small and "niche"
regions, there is always something new to discover!
♦ ♦ ♦
Our Bordeaux office in France serves our
French, European, and Asiatic customers,
while our U.S. office in Maryland
serve our U.S. customers.